Who knew that I had a flat bum? Well I'm not quite sure if it's a flat bum or a low bum or a muscular bum but I have the tell tale lines in my trousers under my bum to prove it. I'm going with muscular 😉
These are the Ultimate Trousers from Sew Over It. The Ultimate Trousers is the second pattern that comes with the Ultimate Guide to Trouser Fitting Online course. I wasn't too impressed by the course but I'll save that review for another post.
My quest for learning and nailing trouser fitting comes from my need for properly fitting reasonably priced trousers for work. I'm a manager in Construction. Although based at head office I can be called to a site at anytime. I therefore wear trousers every single day. Sometimes a day filled with office meetings with Clients (smart attire required) can quickly change to the need to visit a muddy site. Therefore my trousers need to be smart, comfortable (because I'm of an age where comfort comes before EVERYTHING) and washable.
Personally, I have found cheap trousers itchy and to put bluntly – sweaty.
I prefer tailored narrow legged trousers as trousers billowing out, tucked into site boot socks, makes me look like a pirate.
My waist can swell an inch or so and so I like to have few options.
I have ordered online and sent back soooo many pairs, usually fitting between sizes or finding some other fitting issue. I despise real life trouser shopping and would rather hoover out my car.
So back to the Ultimates. I used a stashed stretch cotton for this toile.
This is a size 10, graded to a size 12 at the waist. Hmmmm.
So I unpicked and re cut to a size 8, pinched the waist darts a little further, inserted a rather amazing invisible zip and waist facing. And then I ended up with this.
Ha!!! Fooled you!!!
It really wasn't that easy. I used every ounce of patience to get to this point. My unpicker is almost blunt. I must have read 10 differing pieces of trouser fitting advice. And every bit of advice works……for the person it is fitted too.
The first thing I noticed was that my front leg muscles are quite pronounced and were pulling the sides seam forward. I knew that this side seam should be pretty vertical. You can see where I've let out the front piece seam allowance to improve this.
But then the dreaded bagging crotch. Using some advice on a Closet Case Jeans fitting page I took in the crotch as shown front and back
And then some more, and then some more.
I can't take any in more. Using Patrick Grant's words from Tuesday's GBSB , my bum is just starting to look a little fabric hungry.
It worked a treat around the front but for the back I've got to this point without recutting/redrafting all four trouser pieces. Believe me, these are so much better than before the adjustment.
Next time I'm going to try this Style Arc advice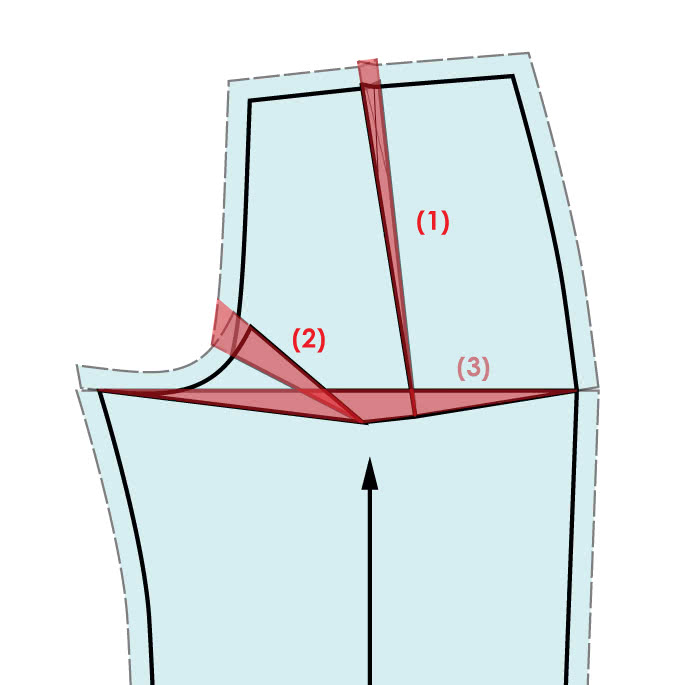 Meanwhile, if I don't show you the rear, these are my 85% Ultimate Trousers.
I'd love to know what you think of the bum fitting and if you think the Style Arc advice might work. Or alternatively do you think I'm just being too critical?
Love Lucie xx